2PE
HIGH-FLOW / LARGE VOLUME PUMP
DESCRIPTION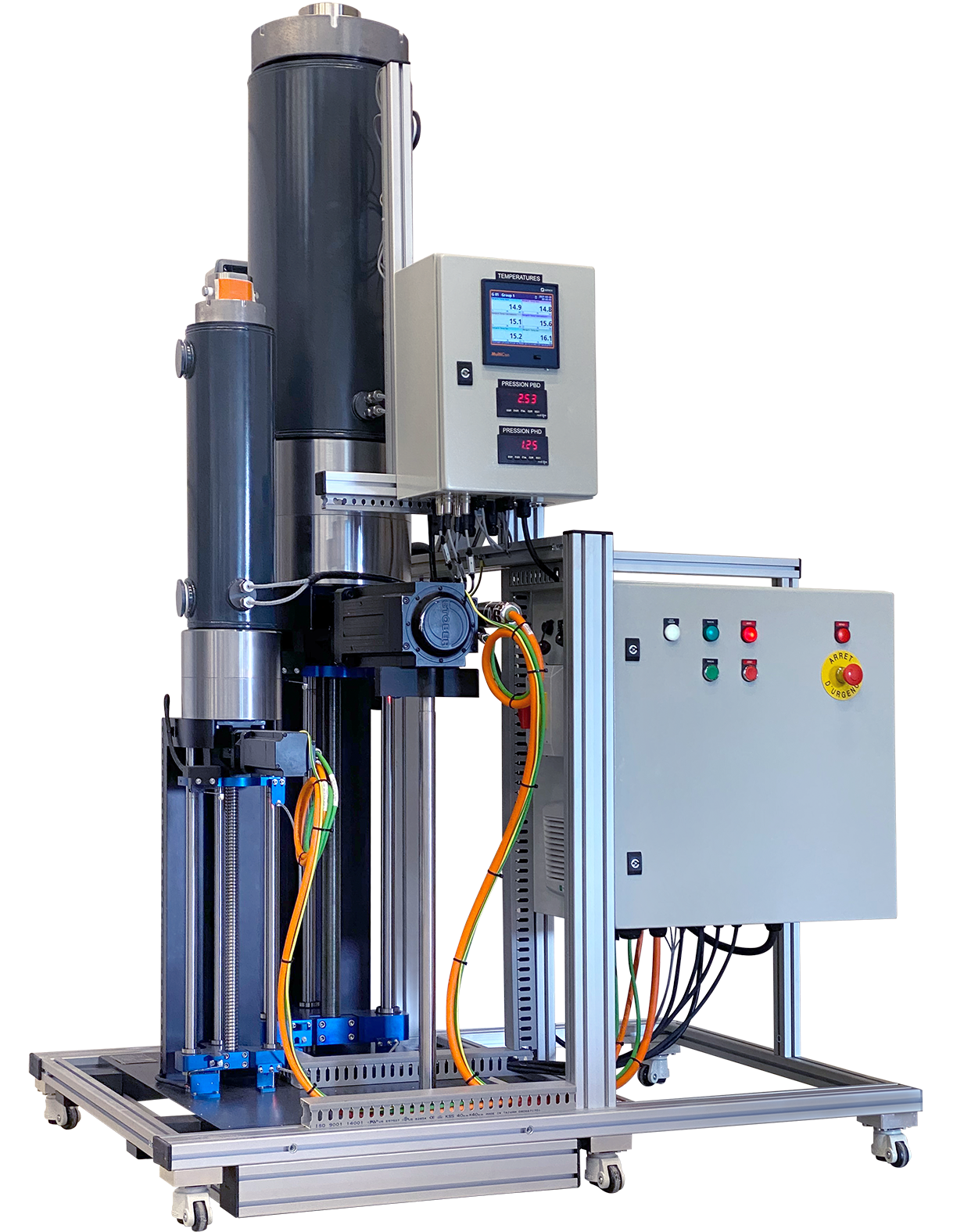 The 2PE double pump covers a very wide range of fluid flow rate with a very high accuracy.
The 2 syringe pumps (P1: Low flow / P2: High flow) have a double wall through which a heat transfer fluid controlled by a heating circulator.
TECHNICAL SPECIFICATIONS
CYLINDER PRESSURE CAPACITY: 25bar (360psi)
FLOW RATE (LITER/HOUR):
Pump P1: de 0.013 à 100

Pump P2: de 100 à 6,000
VOLUME:
Pump P1: 3 Liters

Pump P2: 30 Liters
WORKING TEMPERATURE: +20°C up to +50°C
MATERIAL: Stainless steel 316L
DIMENSIONS (H X W X D): 2.15 m x 1.43 m x 0.91 m
WEIGHT: 570 kg
GENERAL FEATURES
Applicable to all kinds of non-corrosive fluids
MEASURING SENSORS (FOR EACH PUMP):
1 x Pressure transducer: FS = 50 bar / Resolution 0.01 bar

2 x PT100 sensors located at each end of the cylinder

1 x PT100 probe located at the outlet in contact with the fluid
MODBUS RTU remote control of the motors.
OUTPUTS:
2 x 4 analog signals 4-20 mA

Encoder signals generated by the motor speed controller
HIGH PRESSURE SAFETY SYSTEM WITH ELECTRONIC THRESHOLD (MOTOR STOP) + BURST DISK
POWER SUPPLY : TRI 3 x 400 VAC / 50 Hz – 32 A
CALIBRATION CERTIFICATES:
Temperature/Pressure

Measurement of the expansion of the cylinder by means of internal instrumentation with strain gages (under pressure and/or at variable temperature).